small weddings
HOW TO PLAN THE BEST SMALL WEDDING!
Break out the bubbly - weddings can go ahead again!!!
It's truly fantastic news that the gradual lifting of lockdown restrictions will see increasing numbers of guests allowed at weddings over the next few months. And yes, by the summer there could once again be no limit on the number of family and friends helping celebrate your big day.
But the reality is that smaller weddings will be the first choice of many couples for the foreseeable future as the uncertainty of the pandemic and the potential for future restrictions linger on. After all, you just want to be married and start your new life together, right?!
Well now is the time to rip up the rule book and get hitched exactly how you want and where you want!
And while you might not be planning the exact dream wedding you had growing up, there's plenty of positives to tying the knot with a smaller event.
I was lucky enough to have been behind the lens shooting weddings and engagements when lockdown restrictions eased before, and I'm here to give you the tips I've learned from working with couples who were determined that small can still mean amazing.
SMALL IS BETTER
For the past number of years, the cost of a dream wedding has been rocketing - not to mention the guest count! But often this is due to family pressure or unrealistic expectations of what a dream wedding should look like (social media guilty as charged…)
A lot of couples have started to feel like it's not even their wedding any more.
THIS YEAR IS YOUR EXCUSE TO HAVE THE WEDDING YOU ACTUALLY WANT.
You now have full control over the guest list. You get to invite the most important people in your life to be there, and you actually have time to be with them!
YOU GET TO SPEND TIME WITH EVERYONE THERE
Traditionally, it's rare for couples to actually talk to everyone that attends their wedding. With a more intimate wedding you can spend time with everyone you've invited, and make them really feel like part of your big day.
COST
Couples right now are saving so much money on weddings. Prices really have gotten out of control, and now you can spend the money you save in other places - your dream dress, for instance, or your dream honeymoon when the time is right. You could also invest in a stylish and intimate engagement/pre-wedding photoshoot to keep the excitement levels high until the big day!
A WIDER CHOICE OF WHERE TO GET MARRIED
This is one of the most exciting things with 'micro weddings' - you no longer have to look for a venue to accommodate a certain guest count, while also staying within budget. Now you get to be more creative, like with smaller, cosier venues that would not have been possible with a larger guest count.
FANTASTIC & FUN WEDDING PHOTOS
A smaller wedding doesn't mean lower expectations, and you still deserve beautiful photos to forever remember your special day.
As a wedding photographer, this is the best part of small weddings for me.
Weddings have become much simpler overall, which means less stress for you on the day - you simply get to enjoy the day! And this lack of stress on the wedding day really comes through in the photos.
We have all the time we need for photos, and we're more in control of the time of day we take them. At a traditional wedding - which can often take more coordinating than the London Olympics - the photo session just kind of fits wherever it fits. This can mean less than ideal lighting conditions and a flustered bride and groom.
HERE'S 4 TIPS ON PLANNING THE BEST MICRO WEDDING!
1) Pick a location that really works for you as a couple
Wedding venues large and small are really going out of their way to be super accommodating at the moment. And with a smaller guest count the choice of suitable venues dramatically increases, making your life a lot easier. Now you can look for a venue that matches your personalities, not your guest list!
If you're dreaming of an outdoor 'I do' how about Scotland, where al fresco humanist ceremonies are already legal. Since September 2014, venues haven't needed to be approved, as long as a minister or celebrant is present. So you can choose your spot - be it a dramatic coastline, the rugged Highlands or a picturesque glen!
2) Set up an on-location dinner
With smaller guest counts it's now so much easier (and way cheaper!) to organise a small reception. Book a pub or restaurant just for you and your guests or set up an on-location dinner, like in a church hall or marquee. Picnic anyone?
3) Spend some of the money you're saving on bringing in great vendors
Budgets usually get stretched really thin because of the number of guests at the wedding. This is your excuse to involve all of the vendors you would want to have for your dream wedding, and current UK Government guidance says that 'anyone working is
not
included as part of the limit on attendees'.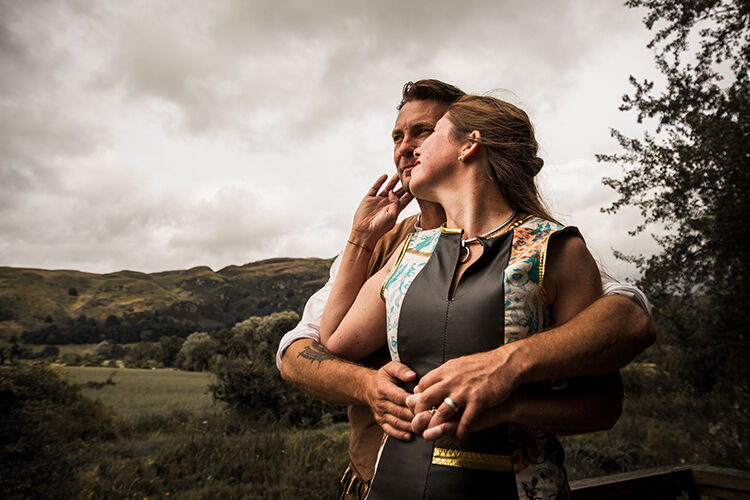 4) Make sure you get the best photographs
Schedule your ceremony when it's good for photos. Later in the afternoon or two hours before sunset will give photographers the best light for photos, especially that beautiful 'golden hour' just before the sun goes down. You could even switch your couple shoot to follow the reception - and with a few glasses of bubbly inside you, expect some fun pics!
Hire a photographer (me!) for 2-3 hours.
This could cover the ceremony, family photos and photos of the two of you afterwards (see my pricing page for full details of packages and how a small wedding coverage could cost you as little as
£300
. I also offer a 10% discount on all my wedding and engagement packages to NHS staff, as a little thank you for being great - during Covid and always!)
Always professional and discreet, my style is a mix of natural storytelling and posed, shot in a relaxed, informal and fun way that aims to capture the personality and love of the beautiful couple.
If you're planning to pull out all the stops and are interested in my full wedding packages please see my pricing page for how I can help you.
I also offer stylish engagement/pre-wedding shoots for just
£180
. These fun, laid-back sessions are a great way to give you more confidence having your photo taken together as a couple before your wedding day, and a perfect way to get to know your photographer! Your favourite pics can also be used for your 'save the date' cards.
The simple truth is I love shooting weddings of all shapes and sizes. If you're interested in working together please send me a brief message via my contact page, or email
mikeblackburnphotography@gmail.com
or give me a call on 07853570745, and I'll get back to you as soon as I can.
Thanks for reading and CONGRATULATIONS! And if you have any other questions, then let's chat.
Mike